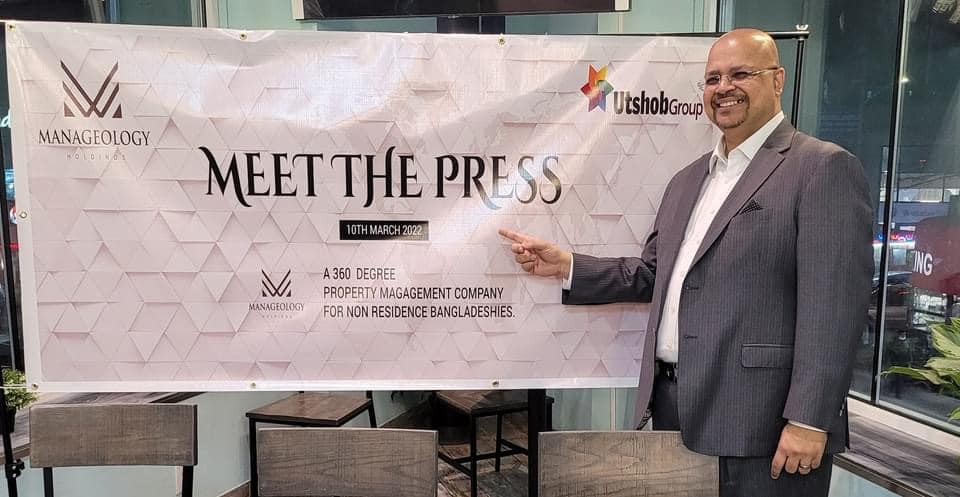 We had a successful Meet the Press for MANAGEOLOGY HOLDINGS! Thanks to all Print and Electronic Media for attending the event.
A property management company called MANAGEOLOGY HOLDINGS has started its journey in New York to provide various services to Bangladeshi expatriates in the care and management of their property in the country. Utshob Group's new company is a multidimensional property management organization for expatriate Bangladeshis, through which expatriates can buy, sell, and rent their own land and flats while living abroad. Festival Group CEO Raihan Zaman made the announcement at a news conference at the Moonlight Grill in Queens, New York on Tuesday night, March 15. Also present were Tanzila Rahman, Relationship Manager, and Al Amin Russell, Marketing Manager.
In a written statement at the press conference, it was said that MANAGEOLOGY HOLDINGS has a modern portal facility through which expatriate Bengalis can know about the current status of properties located in their home country and make various financial transactions from home.
It was informed at the press conference that MANAGEOLOGY HOLDINGS is able to provide the best service to the expatriate Bengalis. The expatriates in Bangladesh will handle various property maintenance tasks such as sales and purchases, rent, tax payment, interiors, conservation, etc., very efficiently. MANAGEOLOGY HOLDINGS will ensure that the proceeds from the sale and purchase of rent are paid to the expatriate owner in a transparent manner. Speaking at the press conference, Raihan Zaman said, "Utshob Group has been providing various services to the expatriate Bengalis for almost 18 years. In continuation, MANAGEOLOGY HOLDINGS will also provide services in expatriate property management with transparency and fidelity.