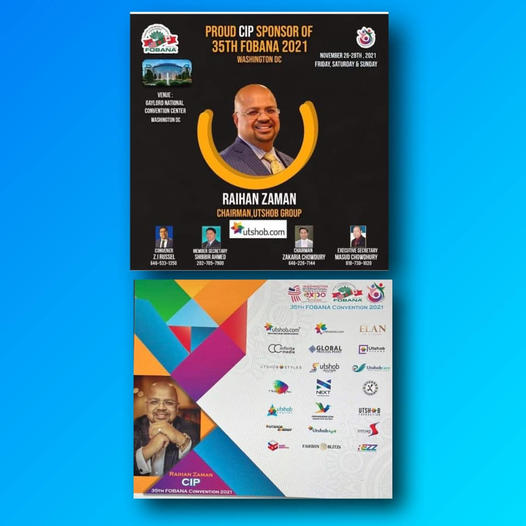 We are delighted and honored to announce that, Utshob Group is the proud sponsor of the 35th Fobana 2021, which will be held at the Gaylord Convention Center in Washington, DC, from November 26th to 28th. The American Bangladesh Friendship Society is hosting this event.
FOBANA is the largest and one of the oldest network for non-resident Bangladeshi Americans. FOBANA stands Federation of Bangladeshi Associations in North America that has a "Registered" Trademark. FOBANA® is a tax-exempt organization that is non-profit, non-political, and non-discriminatory. This company was established in 1987. This has been recognized as a gathering place for Bangladeshi Americans to celebrate their achievements and share their beautiful culture with this cross-culturalism country throughout the year and build a healthy, informed and robust network. FOBANA® has been working endlessly in this land far away from our motherland for 34 years to preserve our indigenous culture and pass it on to our future generation in the United States and Canada.
FOBANA® is a symbol of our optimism and aspiration, as well as a unifying force that brings people together and moves them forward. No one can use the name FOBANA without permission, as this is a violation of trademark law. FOBANA consists of only ONE institution. However, some people illegally utilize the name FOBANA to hold private, personal, and local conventions. So, keep an eye out for FOBANA knockoffs!